Architettura>Energia Research Centre
last modified

Dec 09, 2012 09:54 AM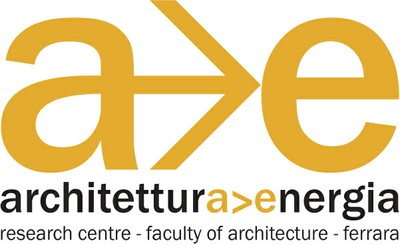 Architettura>Energia is a Research Centre of the Department of Architecture, University of Ferrara, Italy.
It was born in February 2009 as unification of four synergistic reality already active within that Department from 2005: A>E, a structure for the organization of training courses and further trainings, the Observatory on buildings environmental sustainability certification, the TS–Technologies for Sustainable redevelopment Laboratory and eFAF–Laboratory of Energy.
Architettura>Energia has a strong interdisciplinary character and is involved in research, design consulting, training and services for public administrations, businesses and privates for issues related to energy efficiency and environmental quality of buildings and urban spaces.
Fields of interest are urban and building scale, both in new buildings and in the recovery and redevelopment of existing ones, even in cases of high historic values, with a recent interest to the industrial sites, school buildings, social housing construction and historic heritage.
The Research Centre provides design and operating guidelines for buildings and urban planning, performance enhancements, testing and collection of technologies, procedures and models of intervention aimed at achieving high standards of environmental sustainability and energy efficiency, research applied to special plants and technologies fed by renewable energy sources, local and regional energy planning, experimentation within the instrumental energy audit. A>E also operates in scientific management, promotion and organization of training activities and scientific dissemination such as training and further training, masters, workshops and conferences in a strategic sector for the contemporary society.
Contacts
[phone | fax] +39 0532 293631   |    [e-mail] ae@unife.it    |    [skype] centro.architettura.energia

Since 2010 Architettura>Energia Research Centre is parter of the Green Building Council Italia network (www.gbcitalia.org).